Hair Extensions Edinburgh
Salon Consultation
Hair extensions add colour, length and volume to your hair. Myles Hairdressing salons are dedicated to specialising in quick, easy and affordable hair extensions in Edinburgh. The human hair extensions we offer, include a range of gorgeous colours, lengths and textures.
Hair extensions complete your look and offer endless possibilities for every desired hairstyle. At the personalised consultation available in Edinburgh, we can explain the super-fast bonding system we use and discuss the benefits of adding volume, increasing density, or lengthening your hair.
Extensions provide you with the creativity and flair, giving you the hair, you always wanted. There are two hair types available and we can work together to choose the perfect individual style for yourself.
Rapture Taped Extensions
Discreet and non damaging. Perfect for adding fullness and length to most hair types.  Refitting 6-8 weeks.
Micro Rings
Discreet and non damaging. Perfect for adding fullness and length to most hair types.  Refitting 6-8 weeks.
Nano Rings
Nano rings are non damaging and 90% smaller than the Micro ring. Great for adding fullness and length to fine hair. Refitting 6-8 weeks.
Micro Ring Weft
A temporary no damage method of applying a weft of hair. Perfect for bridal/occasions/holidays. Will last 2-4 weeks.
Luxury Ring Weft
A much improved alternative to the old fashion braided weave. This is non damaging method that sits flat to the scalp and is very comfortable. Not recommended for fine hair. Refitting 8-10 weeks.
FREE CONSULTATION
We offer a free consultation for bespoke advice and pricing options.
Best Hair Extensions in Edinburgh
Edinburgh offers lots of different hair extension systems, but Myles Hairdressing salons use a luxury system designed to maintain the health of your own hair, even in finer hair types. We focus on the quality of hair and the method of adding them to natural hair, ensuring it's a gentle approach that will sit comfortably with your own hair. It's also important to ensure the maintenance is simple and the lifespan of the hair will be long-term.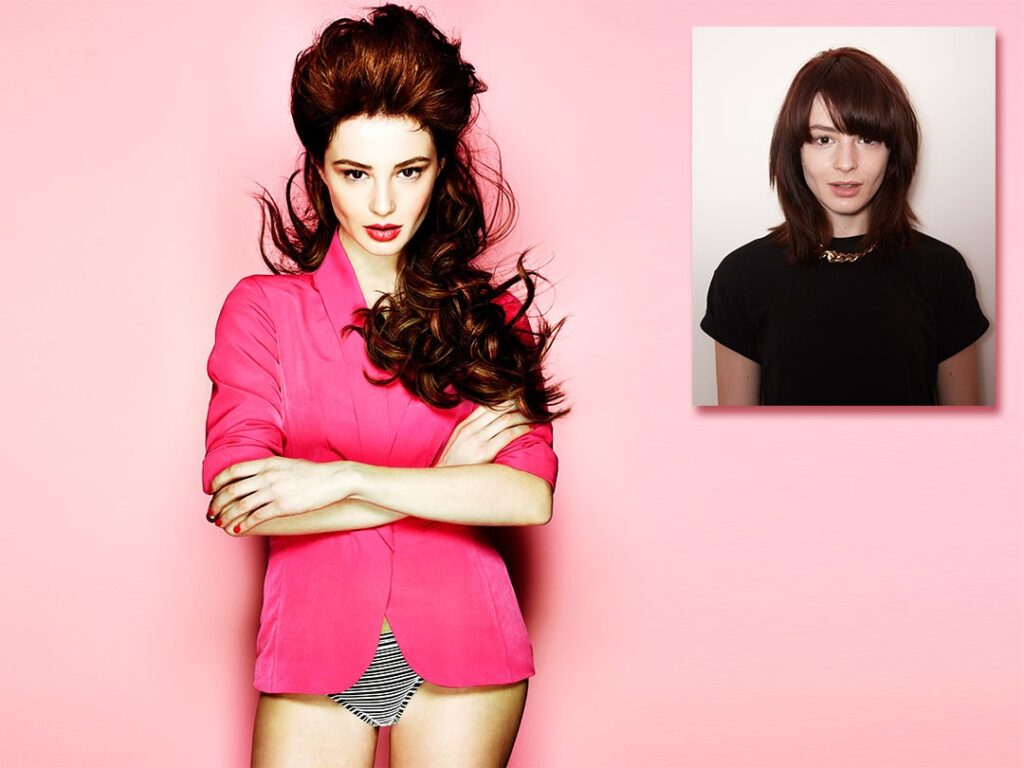 EXTENSION OF CREATIVITY - Rapture Hair Extensions
It's an age of instant results and with our rapid extension technology you can transform your client's look with speed and ease. With celebrity transformations and influencers' hair tutorials on the rise, you can now access Instagram friendly locks with Rapture.
Our inspirational products open up a world of creative styling opportunity. Founded on over a decade of research, and backed by the UK's longest established wig manufacturer, our patented adhesive formula and ultrafine application strips make Rapture unique.
Rapture creates an unrivalled business opportunity that has profit potential for you and the outcome your client's want; head-turning hair that lasts.
SPEED
Rapid results for busy lifestyles. Rapture Hair Extensions use a secure tape application method, so you can create a full head of natural looking extensions in just one hour. Perfect for a lunch break transformation.
QUALITY
With quality comes confidence. For results that blend seamlessly into your hair, we only use the best Remy hair. Our commitment to quality gives consistent results your will love.
LONG LASTING
Natural looking locks for the long term. Well cared for Rapture extensions can last for up to 9 months, making them an affordable solution for you.
Hair Extensions Maintenance
Once you've had your hair extensions installed, it's important to know how to maintain them and care for them at home, as well as in the salon. To keep your hair extensions in the best condition, we offer home care treatments and we also offer products to restore the condition of the natural hair. During your personalised consultation, our hair stylists can explain the process and methods to ensure top quality.
Tie hair extensions back when sleeping. Try a loose plait down one side or tie into two plaits.

Use soft bristle extension brush.

Rapture Hair Extensions are only guaranteed when you use Rapture Hair Products, we supply the shampoo & conditioner you will need.

Wash in an upright position such as in the shower.

Pat hair dry following washing, divide into sections to blow-dry and straighten/curl.
Don't go to bed with wet hair, always dry the extensions paying careful attention to drying the root area and around the bonds.

Don't use brushes that have teeth with balls at the tip, these can snag the hair and cause it to shed.

Don't get conditioner on the root area or on the bonds.

Don't use oil-based product anywhere near the extensions.

Don't wash hair laying down in the bath or tip the head upside down to wash as this could tangle long hair.
Try to wash the extensions in lukewarm or cool water, not boiling hot.

Gently wash hair as normal, using the shampoo to massage the roots getting in between the bonds. Use light downward motions to distribute shampoo down through the ends of the hair.

Be sure to rinse hair thoroughly.

Don't rub or twist the hair or pile it up on your hair as this could cause it to tangle.

Squeeze excess moisture from the hair and pat dry with a towel condition routine.

Apply conditioner throughout mid-lengths and ends and leave for several minutes to allow hair to absorb.

Avoid the bonds when applying conditioner.

If hair feels dry speak to your stylist about recharging your hair with a high intensity treatment at the time of maintenance.
It is recommended that you have your extensions maintained after 6 weeks.
How do I book in for hair extensions?
We have dedicated hair specialists in the salon who can introduce you to the art of Hair Extensions. They can be a great way to add a little more thickness or fullness, or just something to change the shape and style of your existing hairstyle. Turn your existing hair into something amazing today. Rapture extension technology delivers a full head of natural looking hair in under 60 minutes! Book for a free consultation and price quote. For availability and pricing, please contact us.